If you're reading this, it's because you're gearing up for our Virtual Christmas Extravaganza hosted in partnership with Sparkle tonight! We're so excited for this showcase to show you what's in store when you book your virtual Christmas party with us this year.
This is your exclusive preview, so get ready to enter into a whole new realm of festivities, and leave your preconceptions of a bog-standard Christmas party behind! If you haven't already signed up for tonight's showcase, you can do so here. Read on for everything you need to know, and check out this video teaser to wet your appetite!
Table of contents
1. How to log on
2. Exploring the magical forest
3. Party tips to maximise happiness
4. How to install zoom
5. How to use virtual backgrounds in zoom
6. How to install Snap Camera
How to log on
Tonight's showcase starts at 6pm and finishes around 9pm BST. Feel free to come and go as you please but we ask that you DO NOT log in to the party before 6pm. Our artists are hard at work preparing the rooms so please don't come early - grab a drink and settle in ready for 6 :)
Here's how to log on to the showcase:
1. Go to https://sparkle.space/in/hirespace (on a laptop or desktop with Zoom installed). Please access the event from Chrome web browser (or Safari/Firefox if you can't use Chrome). The platform will not work with Internet Explorer.
2. Enter your details and select create account
3. This will take you directly into the event map. Click to enter whichever room you want. Why not start at the Welcome Inn?
4. Enjoy!
Exploring the magical forest
We have a multitude of exciting rooms for you to visit. We recommend you spend 10-20 minutes in each space; don't be afraid of missing out, explore where your heart takes you! The more you engage with Santa's helpers the more fun there is to be had. Here are the key timings so you know where to be and when.
The rooms
Welcome Inn: Start Your Journey Here (6pm-7pm): The most exclusive club in Lapland. The door girl has many lists: guest lists, good lists, naughty lists, which list are you on tonight? Come get into the spirit of the holiday and being silly.
Complimentary Drinks (6pm-8pm): Welcome welcome, here is your complimentary drink on arrival. Due to logistical errors, you must provide your own drink and we'll provide the compliments.
The Queen's Speech (6pm-8pm): Her Majesty would like a word.
Her Royal Highness requests your attention for some absurd times in the most absurd of times.
Santa's Grotto (6pm-8pm): Get past the elves, come sit on Bad Santa's knee and tell him what you really want for Christmas.
Elf & Safety (6pm-8pm): The elf is here to give a comedic safety briefing, looking at people's regrets of the year.
Stocking Fillers Variety Show (6pm-8pm): The marvellous Miss Mistletoe hosts a mixtape variety show of Christmas & The American Dream.
Angel at the Top of the Tree (6pm-8pm): The Angel is here to help you voice and write your desires in a handwritten letter to Father Christmas. Wish upon a star, because all I want for Christmas is… up to you.
Hot Toddy's Jazz Bar  (6.30pm-8.30pm): Sizzling hot Live Jazz from Kansas Smitty's. Join the Jazz Bar, take a seat, make yourself a cocktail, then chit chat and schmooze with the coolest cats in town.
Christmas Caroloke (6.30pm-8.3opm): Singing lesson with professional Christmas belter Madame Jingle. Interactive Karaoke comedy, with heart.
Cabaret Jukebox (6.30pm-8.30pm): The box of toys comes alive and they're taking requests. A selection of Lapland's most talented performers, allowed out by Santa to perform once a year, taking requests so what do you want them to dance to?
The Festive Campfire (Unmanned) (6pm-9pm): Our campfire is open to all who want a break from organised communication.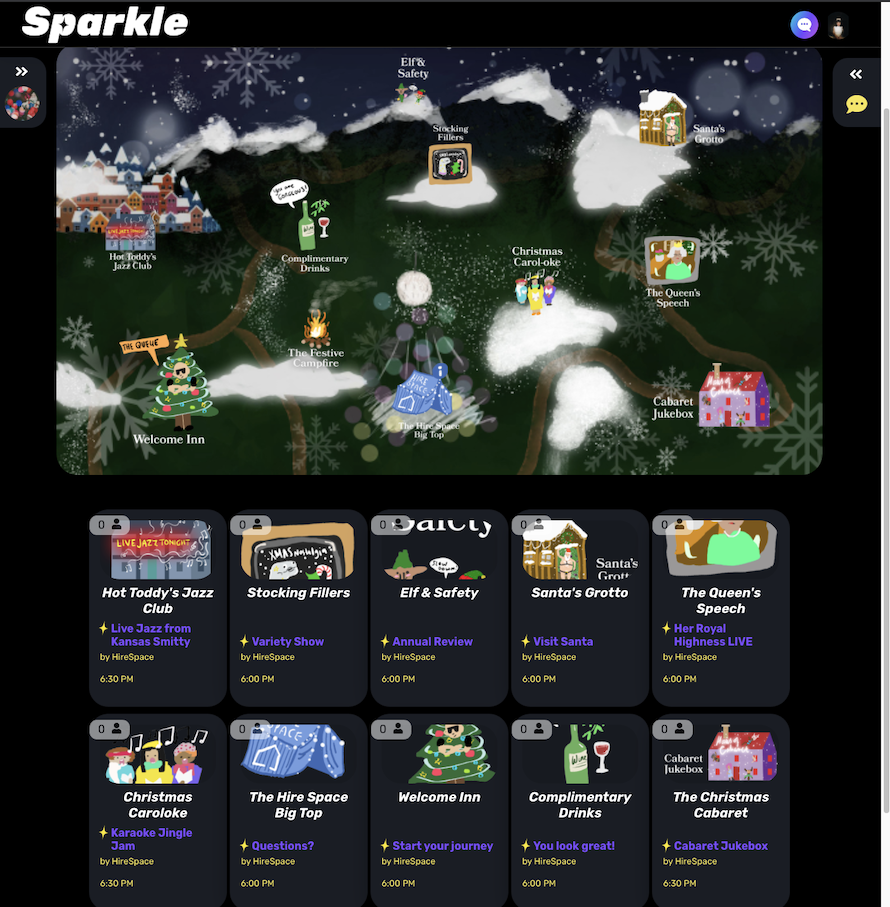 Party tips to maximise happiness
We've compiled some top tips to maximise happiness at Wednesday's showcase:
- For an optimal experience, we recommend using a laptop or desktop.
- Download Zoom to be able to join the various rooms on the Festive Forest Map, and download some Virtual Backgrounds from our event themed collection. You could even consider downloading Snap Camera to bring extra silliness!
- You will need to access the event from Chrome web browser (or Safari/Firefox if you can't use Chrome). The platform will not work with Internet Explorer.
- Dress up! Fearlessly express yourself! Do your hair! Gather fun outfits from things around your house: ugly Christmas sweaters, elves, red/green/white, snow queens, turkeys, or anything festive.
- Invite your housemates or partners to join! Pets, puppets, or muppets. Everyone is invited and the more the merrier!
- Decorate your dance floor! Get lights and props ready. Disco balls are highly encouraged.
- Ready the eggnog, a bottle of Prosecco, pitcher of margaritas, or other beverages of choice.
- Nourish your mind and body: Make sure you're well rested and have food, water and other necessities handy.
- Take care of one another! Respect other attendees and seek to maximise their happiness as well as your own.
- Immerse yourself in the event and be present in the moment. Participation is key! You can read your emails later ;)
- You will also have been sent a link via email to your Whatsapp group. Don't forget to join so you can share your experience with others as you journey through the festive forest.
If you have any questions about Sparkle Christmas Parties, you're welcome to visit the Hire Space Info Tent at any time.
How to install zoom
You will need to download zoom prior to the event, as this is how you will access the event. You can download zoom for free here.
How to use virtual backgrounds in zoom
If you want to add a virtual background during the event, here's how.
- Make sure you're already on the zoom call, otherwise you won't have the option to add a background. Once in the call/event, tap More in the controls on your zoom panel.
- Tap Virtual Background.
- Tap the background you would like to apply or tap + to upload a new image. The background will be automatically applied.
How to install Snap Camera
If you like, you can download Snap Camera for extra silliness! These are virtual filters and effects that you can add to your face and screen during the event.
- First, download the Snap Camera here and select your preferred lens.
- Next, log into your Zoom account and access the event via the link.
- Then, click the little arrow next to 'Video' in the bottom left hand corner. Click Snap Camera, and this should apply the Snapchat lens you previously selected in Snap Camera.
- If you want to turn Snap Camera off, go back to the Camera option in your Zoom Settings and click on your computer's default camera option, rather than Snap Camera. Easy peasy!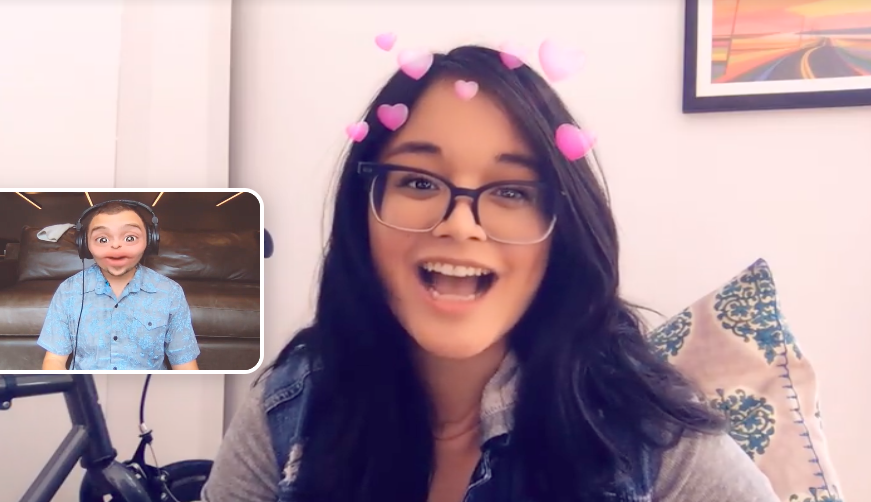 ---
We hope this tells you all you need to know for the Sparkle x Hire Space Virtual Christmas Showcase tonight! We can't wait to see you all there and have a bit of fun.
If you can't wait until after the showcase and want to book now to secure key dates then please contact sparkle-xmas@hirespace.com or book your party below.