Even in normal times, securing the perfect venue for your Christmas party can be a challenge. But with the government's roadmap setting out an end to restrictions long before December, Christmas 2021 is already burning a hole in every company's calendar, and demand for venues looks set to be more competitive than ever this year. While it might feel early to crack out the tinsel, it's essential to plan ahead and bag the best spots before they're snapped up - after all, we need a festive shindig to look forward to for as long as possible this year!
To help you get ahead of the booking frenzy, and make sure the most important party of the year goes smoothly, we've put together a guide to finding, booking, and Covid-proofing London's best venues. For more guidance, you can get in touch with our Event Experts who'll be happy to help, but for now, these top tips should help get you started on planning the perfect 2021 Christmas do.
1. Protect your event spend with Covid Cover
Uncertainty over restrictions has led many companies to hold back on making reservations for in-person gatherings, which may well lead to losing out when December rolls around. Luckily, with increased flexibility in the events industry, booking a venue doesn't have to spell disaster if face-to-face events can't go ahead. Events booked with Hire Space are automatically covered by our Covid Cover guarantee, meaning that you can move your event online at no extra cost up to 14 days before the event. And with our selection of virtual events and experiences to choose from, if you can't be in a physical space with your team, you'll have access to the best of the virtual world, and peace of mind all year.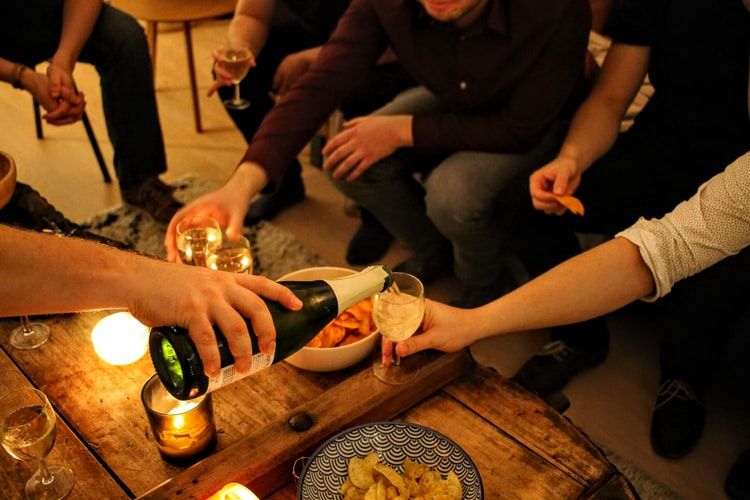 2. Consider virtual options as a fallback
There are plenty of engaging alternatives to the traditional Christmas party, and 'virtual' doesn't have to conjure up images of stuffy Zoom calls. From Broadway Roulette performances and private audiences with comedians and celebrities, to intimate 'cook-along's and wreath-making socials, our curated selection of festive virtual experiences will ensure any team is catered for. And if you're after something show-stopping, our multi-room virtual extravaganza, Big Top, has created a stir with its limitless potential to bring together unforgettable experiences. Big Top has even won features in Forbes, the BBC, and the Financial Times for its revolutionary virtual tech. So even if in-person parties can't go ahead, with hundreds of customisable options to choose from, Christmas definitely won't be cancelled this year.
Hire Space Top Tip: If you're looking to combine your Big Top party with a conference or away day, consider checking out Arena. This brand new events platform is a fully brandable, infinitely scaleable and super affordable option jam-packed with audience engagement tools, breakout options and much more. Arena also works a treat with hybrid audiences too.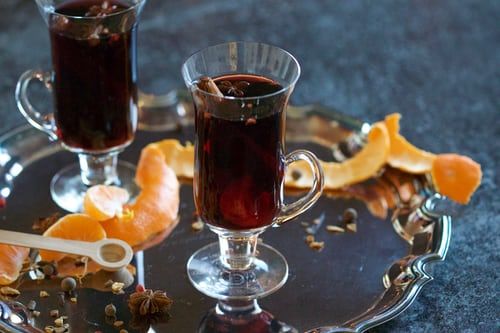 3. Book your venue with flexible terms
The key to a successful party is being prepared, and with the security of Covid Cover, you can nab the perfect venue risk-free before it's booked up. The team at Hire Space are able to negotiate flexible terms on your behalf to
Here are ten of our top picks for this year's festivities, from grand, impressive ballrooms, to quirky, one-of-a-kind spots which are sure to spark the Christmas spirit in any team.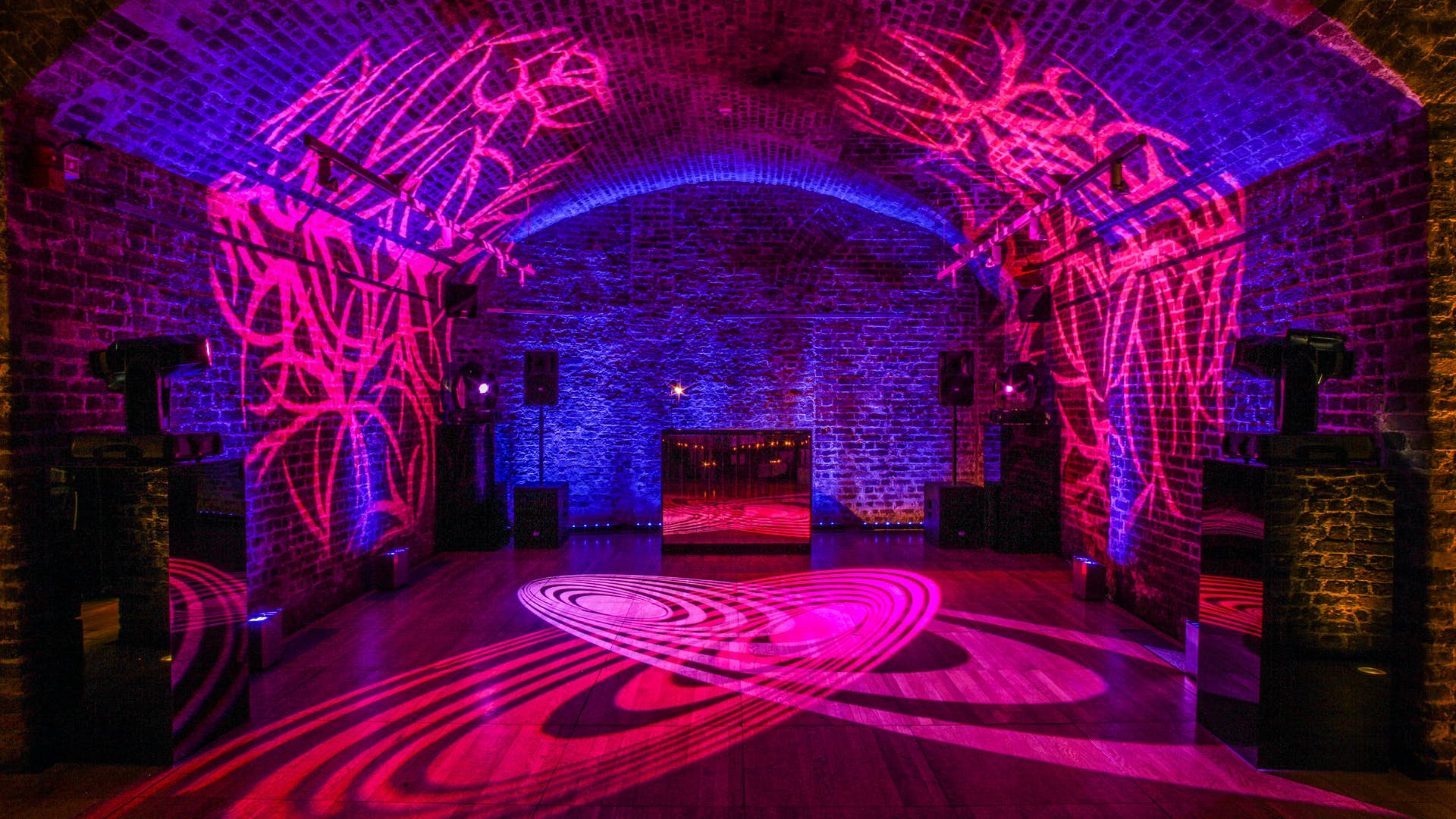 Charing Cross
Capacity: 220 standing
After more than a year away from nightclubs, the chances are that your team will have plenty of energy to channel into cutting shapes in the atmospheric vaults of RSA House. Conveniently located on the Strand, less than a five minute walk from Charing Cross, this historic venue has scooped up awards left, right, and centre, including for its on-site catering options - ideal for after you've worked up an appetite on the dancefloor!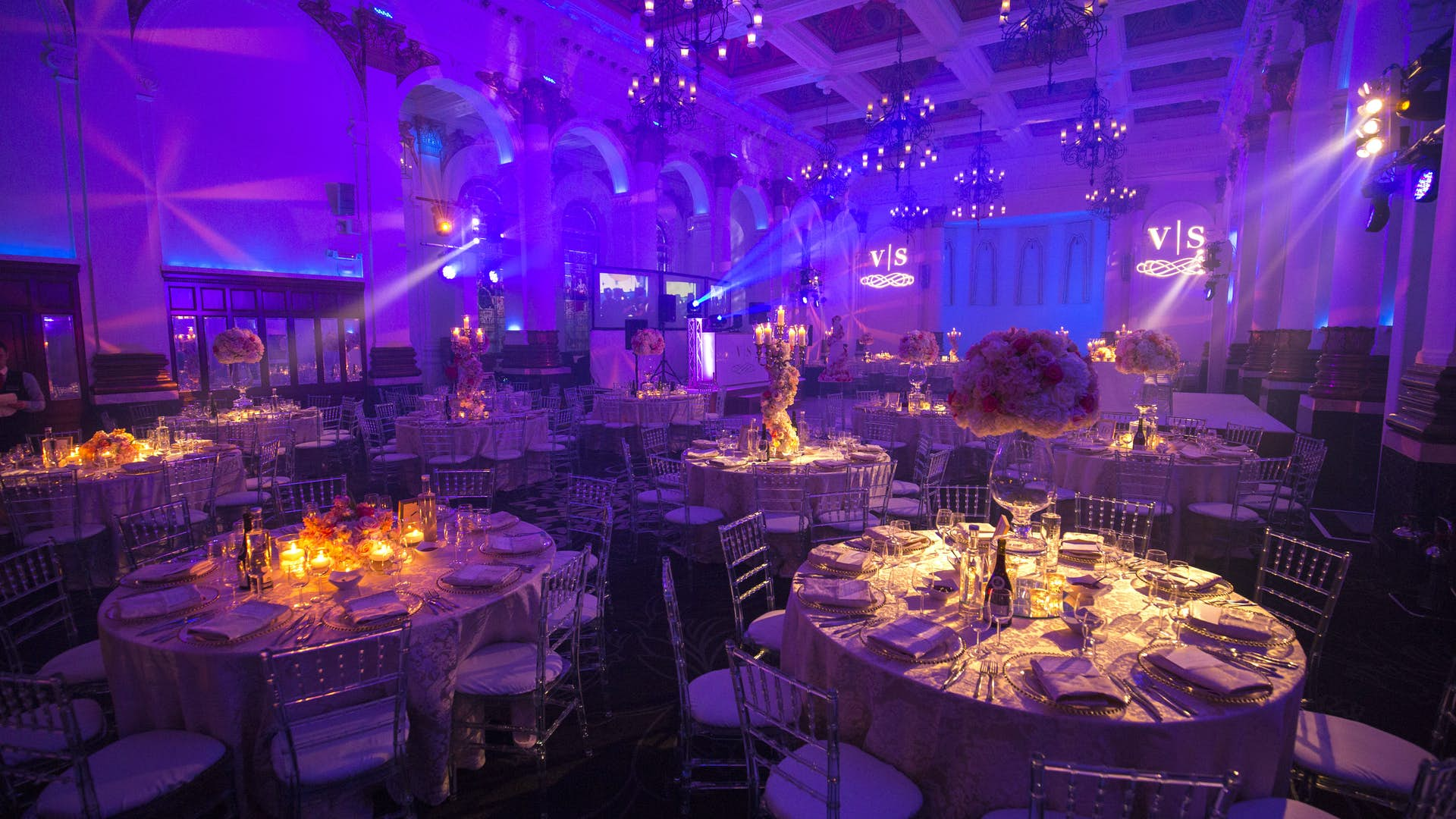 Trafalgar Square
Capacity: 500 dining, 700 reception (Ballroom)
Be right in the centre of things (literally: at just a stone's throw from Trafalgar Square this is as central as venues get!) at 8 Northumberland Avenue, a venue that combines state-of-the-art technology with classic Victorian architecture to make any party a timeless triumph. The team have earned a reputation for serving up a great atmosphere, and the unique space is sure to impress colleagues and clients alike.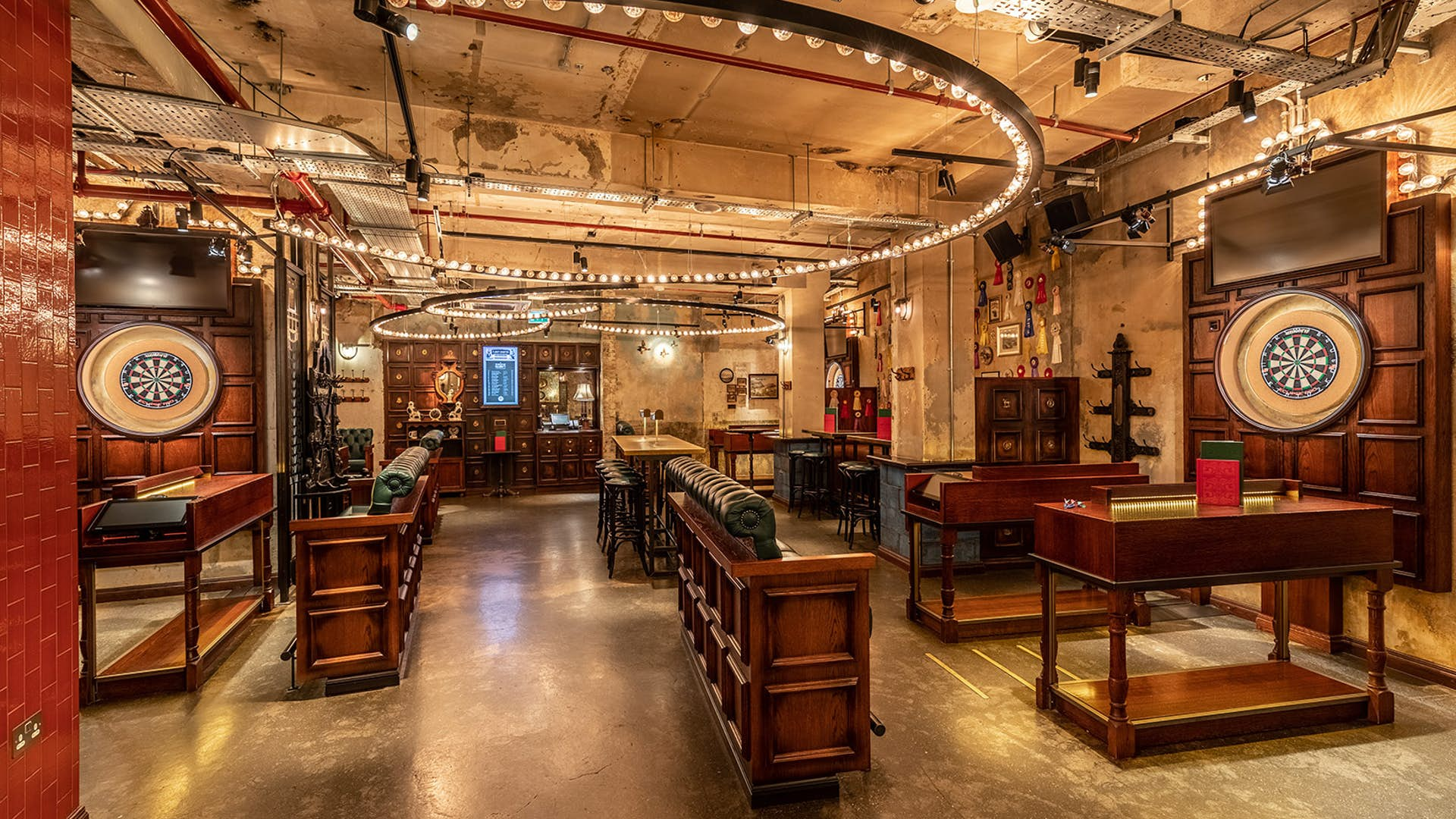 Shoreditch (also in Victoria and Bloomsbury)
Capacity: 230 standing.
This stylish, hipster hang-out is kitted out with retro games, sleek furnishings, and a dancefloor, making it the perfect setting for a team reunion (with some healthy competition thrown in). Ideal for companies looking for a fun festive night out, with great food and drinks, curated playlists, and booths for socialising away from the dart boards, Flight Club is the ultimate playground for adults!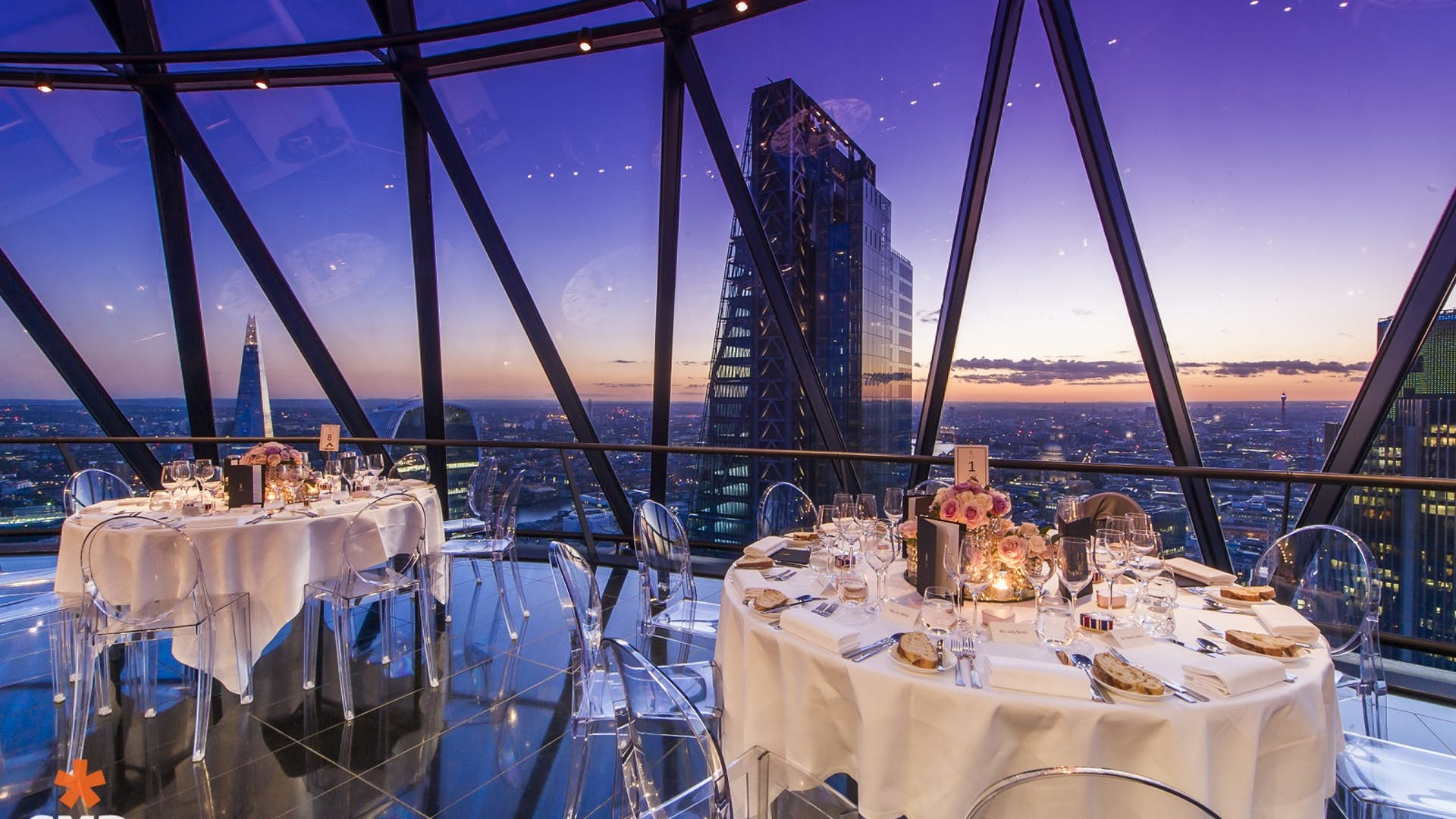 Capacity: 140 dining, 260 standing
For an event that's head and shoulders (plus almost 180 metres) above the rest, check out Searcys restaurant at the top of the Gherkin. Offering one of the most incredible and exclusive panoramic views in the city, dinner in this sought-after venue is an experience to savour. Opt for sky-high dining for up to 140 people, or open the doors to 260 to enjoy drinks with a view. We're such fans of this venue we hosted our clients here for Christmas in 2018. Just make sure your guests all have a head for heights!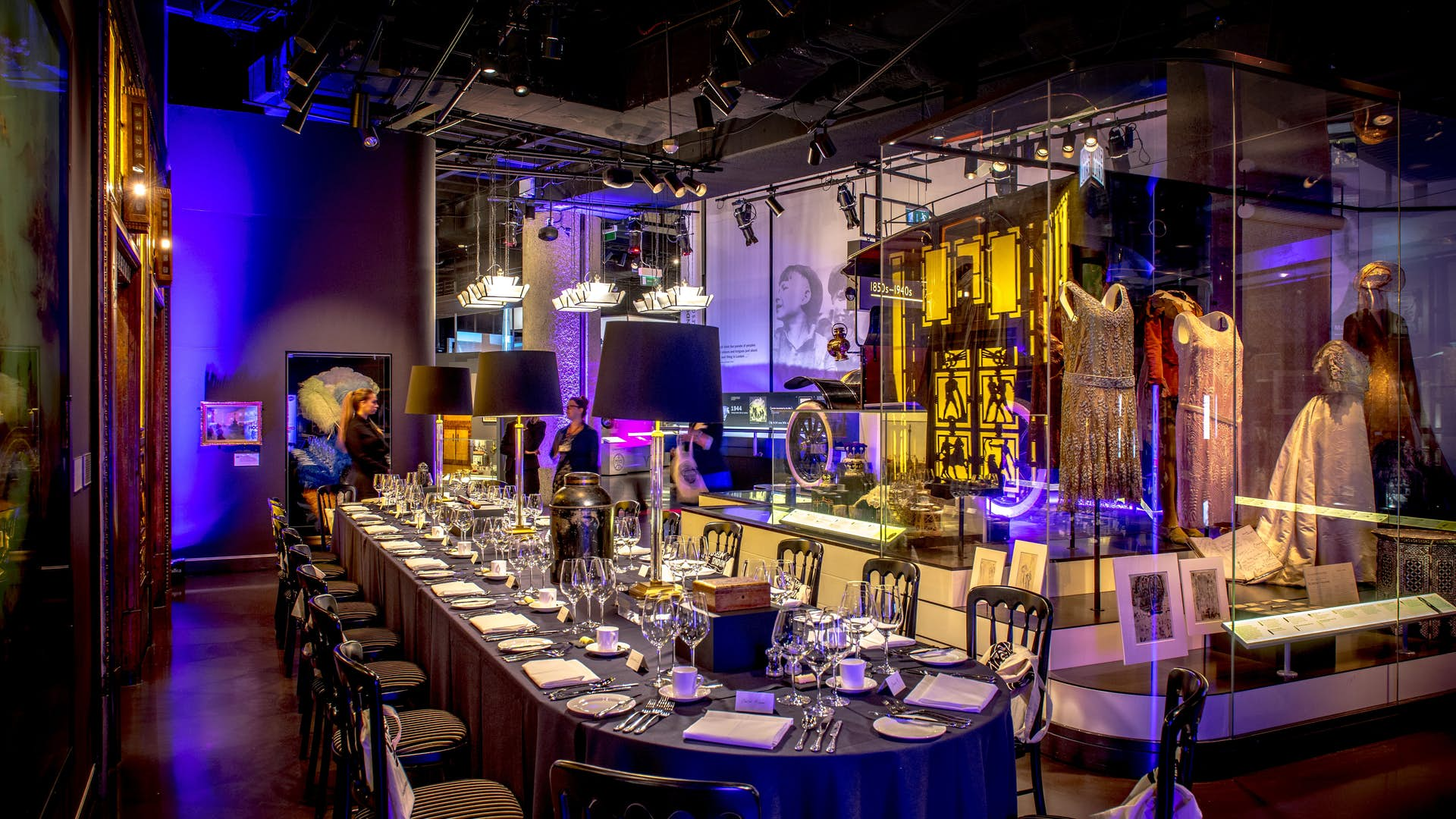 Barbican
Capacity: 350 dining, 1000 standing
For history buffs and fans of 'Night at the Museum', there can be few proposals more exciting than sitting down to dinner surrounded by 45,000 years worth of history at the Museum of London. Immersed in the strange and spectacular objects of the city's past, guests can enjoy dinner, drinks, and a private viewing of the collections - just keep an eye out for exhibits coming to life to join the party!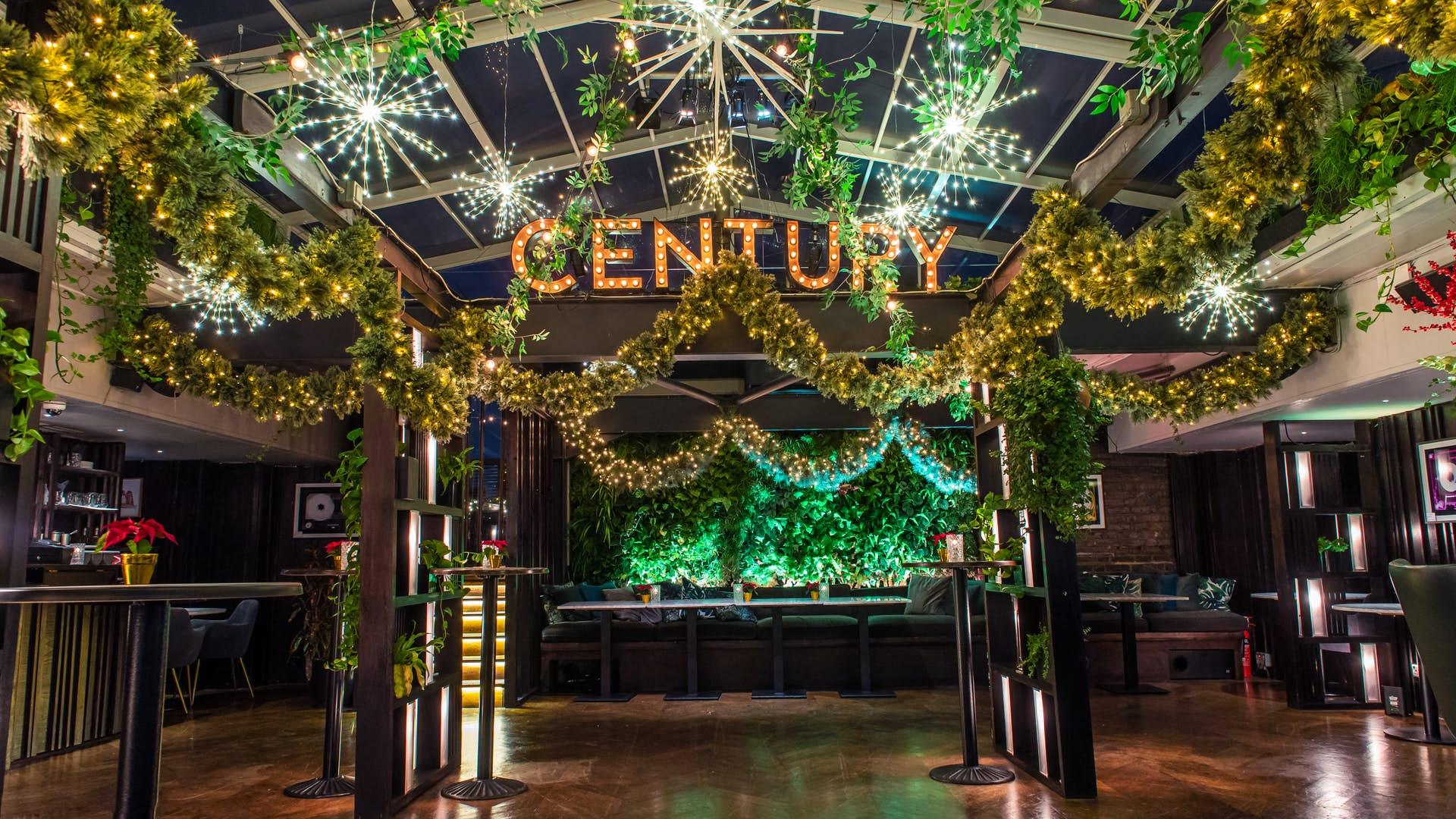 Shaftesbury Avenue, Soho
Capacity: 80 dining, 150 standing
Billed as London's 'Best Kept Secret', Century Club offers an intimate event space with a relaxed charm which gives way to a cool modern vibe at night: think country club lounge (complete with book-lined walls) meets stylish, exclusive night-club. The quirky decor of its Club Room dials the venue's atmosphere to just the right balance of festive and fiesta, while its covered roof terrace sets the tone for a close-knit Christmas party with a unique outdoor twist.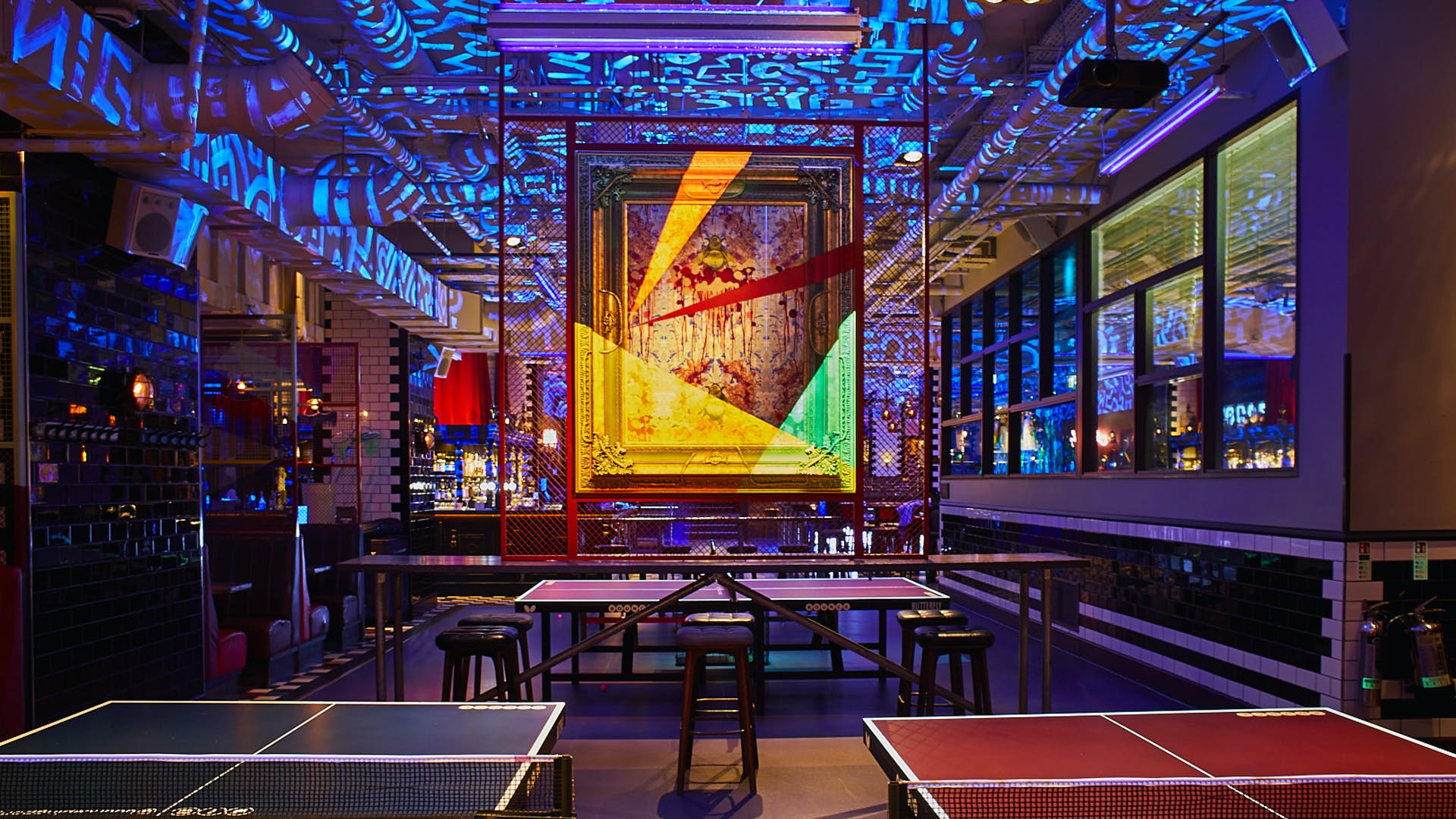 Holborn (also at Old Street)
Capacity: 550
For a party that really gets off to a swinging start, look no further than Bounce, a spacious and stylish venue dedicated to the art - and sport - of ping-pong. With an aesthetic somewhere between art gallery and state-of-the-arts sports hall, the venue can host up to 550 with plenty of room left over to swing a bat at any of its 17 ping-pong tables. With a professional kitchen and gin palace bar, this is a venue for the young at heart, and a sure way to score some points with guests (literally, as well as figuratively) this festive season.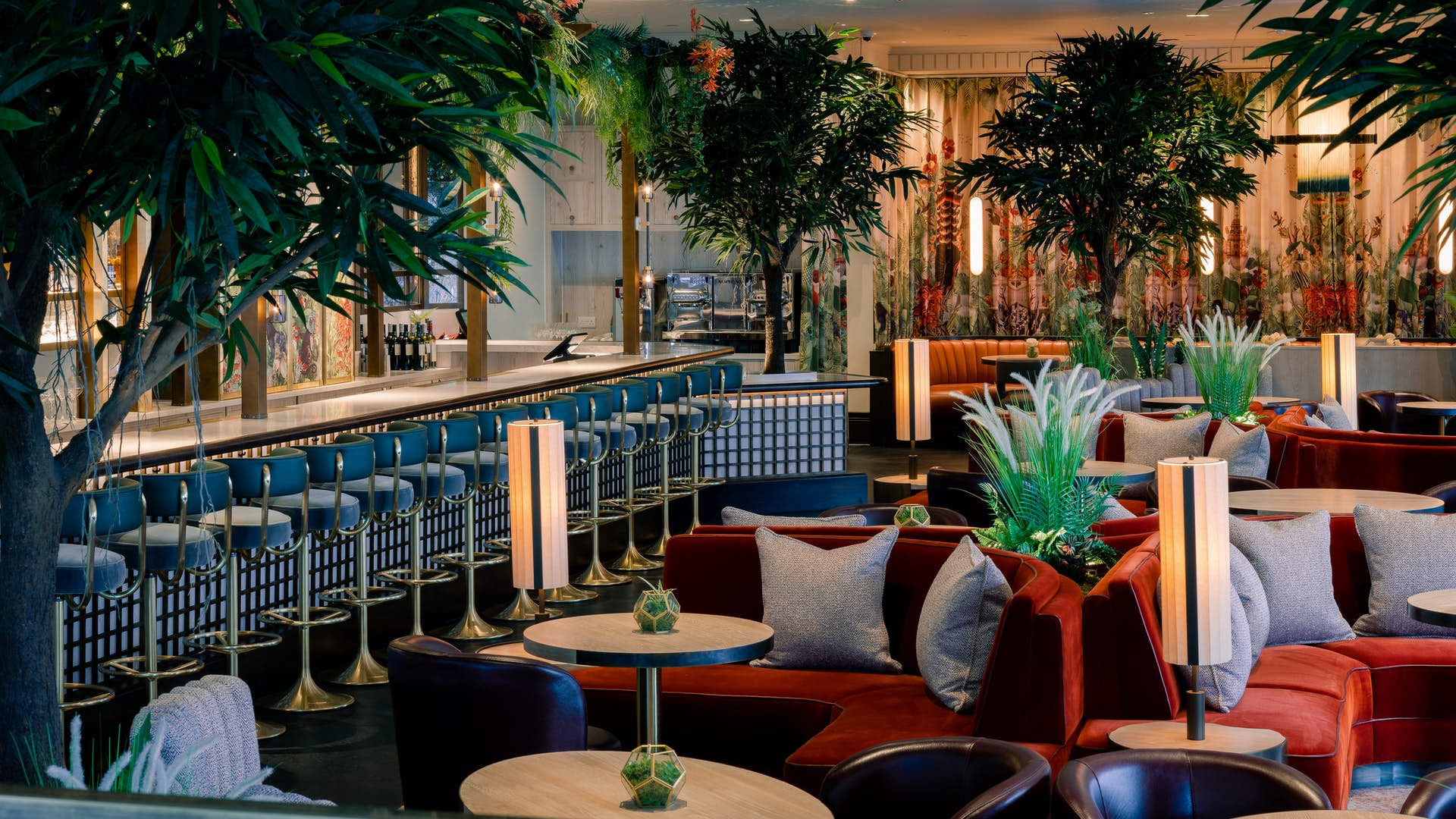 Trafalgar Square
Capacity: 200 reception
Christmas parties at Trafalgar St James can take many equally enchanting forms: host an intimate dinner for a small team in a private dining room overlooking Nelson's Column, enjoy champagne and canapes in the hotel's elegant Biblio lounge, or spend an evening sampling the cocktails that have made its tropical Rockwell bar a celebrated destination. Wherever the celebrations take you, this surreal central London sanctuary is sure to banish the winter blues.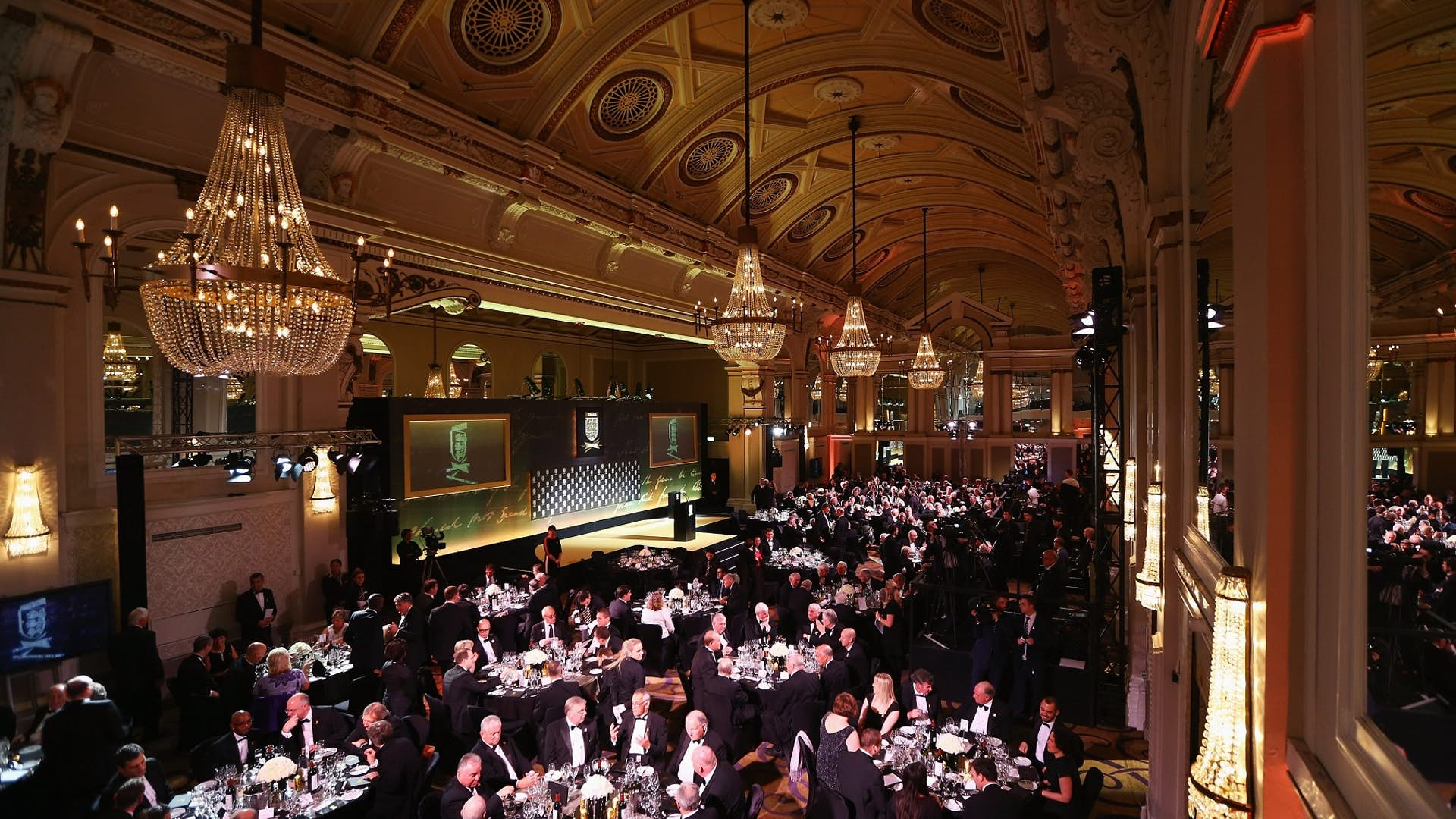 Great Queen Street
Capacity: 1000 buffet, 1200 reception
The epitome of luxury, the Grand Hall and Balmoral Suite at the De Vere Grand Connaught Rooms together provide one of the most breath-taking settings in London for a Christmas party. With arching art-deco ceilings and lavish chandeliers, this beautiful venue transforms into a winter wonderland over the festive season. A magical backdrop for a black-tie event, the grandeur of this venue provides a welcome excuse to bring your glad rags out of retirement!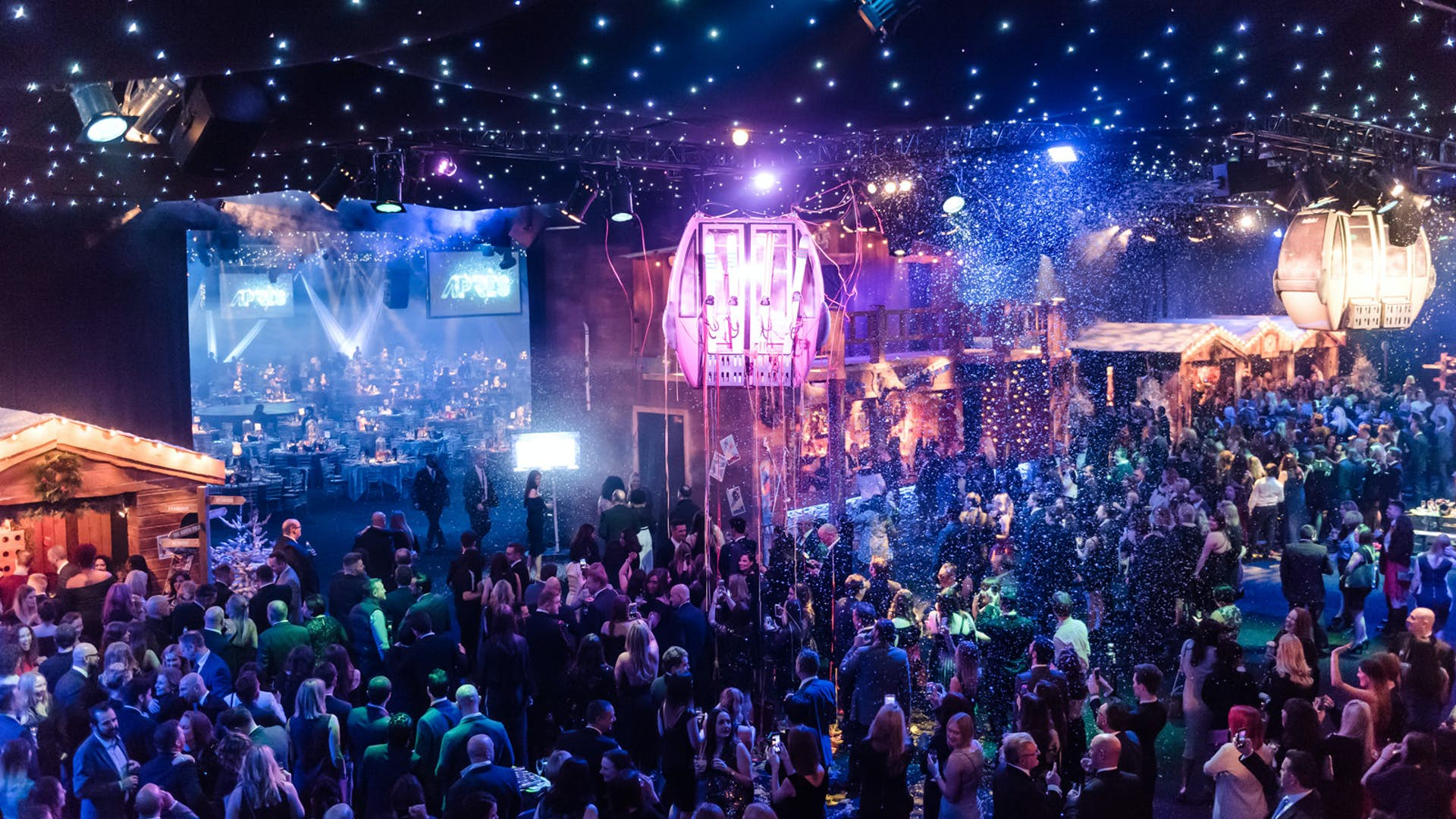 Battersea
Capacity: 2000 dinner dance, 5000 standing
With a colossal maximum capacity of 5000, Evolution London provides an incredibly versatile venue for a large-scale event from its privileged position at the heart of Battersea Park. Its blank canvas design allows the venue to be customised entirely, and it can host theatre and cabaret performances alongside a reception. At 5,500m2, this venue is ideal for bringing together teams from across the country to celebrate the end of the year, and being back together, in seriously show-stopping style.
Whether it's a small, intimate event you're planning, or something a bit more extravagant to make up for lost time, these venues offer some of London's finest spaces, particularly when decked with boughs of holly for a festive celebration.
Don't miss out on making their nice list: with our flexible guarantee, there's no risk in getting ahead of the curve and booking your perfect venue while there's still room at the inn!
If you need some help planning this year's Christmas party and other events you have up your sleeve, Hire Space 360 is a great solution which offers everything the modern event planner needs to create memorable events, in-person and online.